New look and features for our online database
Court PC's redesigned website and online database will go "live" within the next few weeks. This update will introduce you to the new look and some of the new features that have been added. You can preview the changes by clicking this link http://www.courtpcofct.com/newsite/ or pasting the address into your browser. Comments are welcome.
First of all, the home page has been re-designed, with cleaner, drop-down menus and simple direct access to the database through the login at the upper right.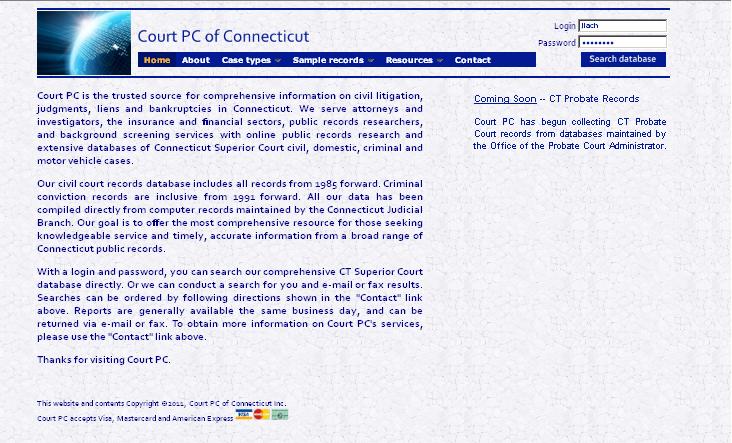 New Menu bar and Search menu
Your menu bar now has three options: New Search, Review My Searches, and Search tips/Help.

More about the "Review My Searches" tab in a future issue.
New Party Name Search features
Below the menu bar, you'll see a new four-tab search menu below the Court PC banner. The Party Name search appears as the default search type. The search frame defaults to a search for an individual name. Select "Business or Organization" from the "Search for..." pull-down list and the correct field in which to enter business name searches will display.
Help topics specific to each search field can be accessed by clicking the question mark icon. A full page of all help topics and tips on the best way to formulate your searches can be found at the Search Tips/Help tab.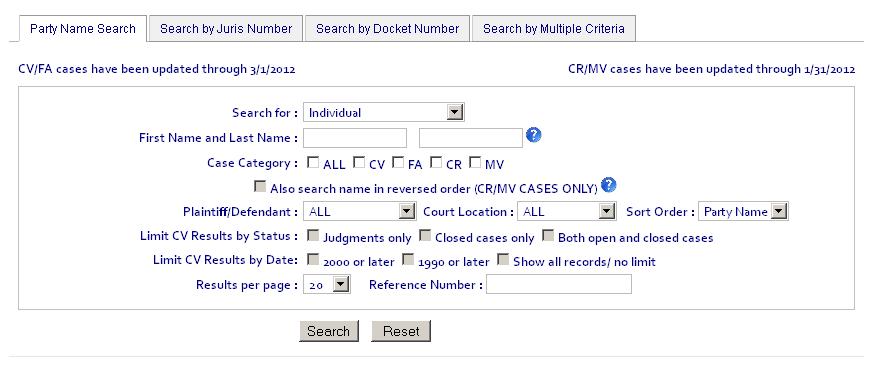 The new party name search form allows you to filter out the oldest results by ten-year periods. In effect, you can now run a search for the period 2000-present, 1990-present, or for all years in the database. You're also now able to select records by case status (i.e., both open and closed cases, judgments only or closed cases only). And you can also filter records by party type (both plaintiff and defendant, plaintiff only or defendant only).
Search fees for party name searches are unchanged, and as before, there are no charges for viewing unlimited case details. Case details now also include all available docket information from the Court PC archived data. More about that in the next issue.
We've also added an "Export to TXT" function for the CV/FA party name search results which will make it easier for you to cut and paste the information into your chosen format. A separate export function for your CR/MV search results allows you to export the entire list of matching CR/MV records as a table to an Excel worksheet.
New Search by Multiple Criteria
Click on the Search by Multiple Criteria tab and you'll see the following menu of search options. This search tool allows users to search for cases, not parties, using at least two and up to five different criteria. No such search is available through the CT Judicial Branch website.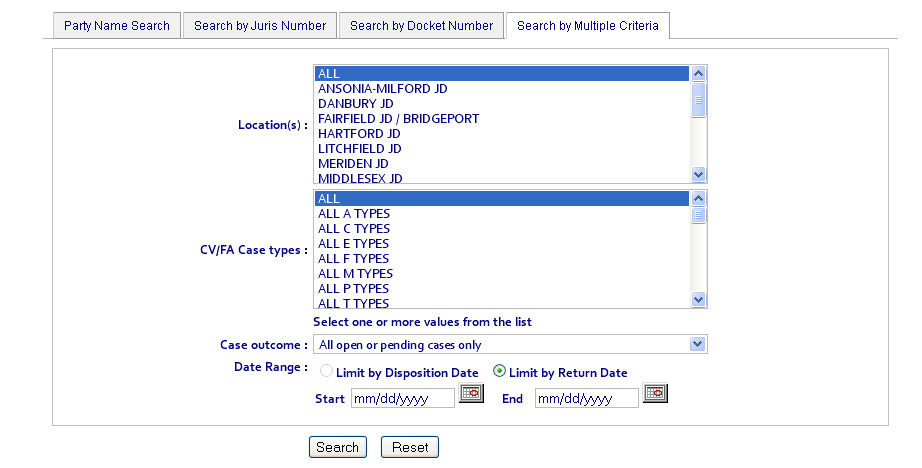 For example, to conduct a search for all medical malpractice cases pending in the Danbury JD.
Select Danbury JD for the location from the "Location(s)" pull-down list.

Scroll down the "CV/FA case types" box to the T28 code and highlight that. Your selection may be categorical (all "C" or contract actions) or by a specific case type (e.g., "C20" or Insurance Contracts). All case types are listed and more than one case type can be selected.

Next, highlight "All open or pending cases only" from the drop-down list in the "Case Outcome" box. A number of possible case outcomes are also listed, e.g. summary judgments, withdrawals only, verdicts, all closed cases.

Enter an arbitrary start date (1/1/1990 will do for pending case searches) and enter today's date as the end date. Press "Search."
Results will be displayed as in the table below. You can access appearance and docket details for each case by clicking on any docket number. Results may be sorted by clicking on any of the following four columns: location/docket; disposition date; disposition; or return date. This search feature gives you an option to "Export to Excel" for easy importing of the results into an Excel worksheet (once there, you'll only need to adjust column widths to display all columns properly). Up to 2000 matching records will be displayed for any multiple criteria search. The charge for performing a Search by Multiple Criteria type of search is $25. There is no charge for viewing any case detail record.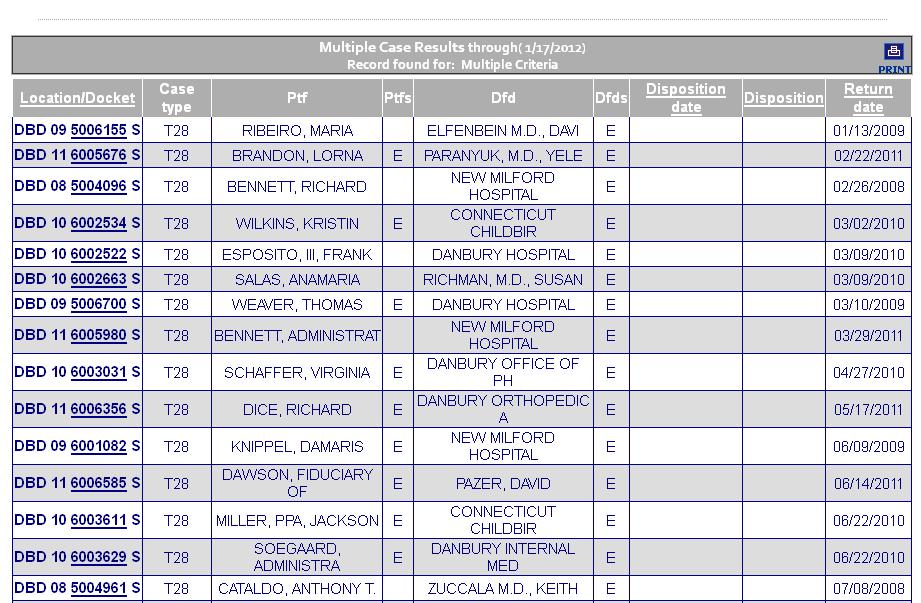 In a few weeks, I'll follow up with another newsletter discussing the Search by Juris Number tab, the Search by Docket Number tab, and the improved "Review My Searches" feature.
contact: John Lach, Court PC of Connecticut Inc.
toll-free fax: 866-768-3761
mail to: P O Box 951, Philmont, NY 12565