The second tab on our redesigned search menu allows you to search attorney records by the six character CT Juris number.
The default search is for a lookup of the Juris number by searching an attorney or firm name. This pull-down menu also allows you to reverse search for an attorney or firm by entering a Juris number. There is no charge for either of these basic lookup searches, which are similar to searches offered on the CT Judicial Branch website.
By selecting a search for "All Appearances for a Juris Number," however, you have access Court PC's database of over 4,000,000 attorney and law firm appearances from the early 1990s to the present. If you need to know who's been represented by whom (and in what cases) at any time in the past twenty years, this is how you'll find out.
Results are displayed as in the table below, and may be sorted by party name, by case type, or by location and docket number (as in this example). The results may be conveniently exported to an Excel spreadsheet. Searches for all appearances by Juris number are $25 per Juris number. No similar search is available through the CT Judicial Branch website.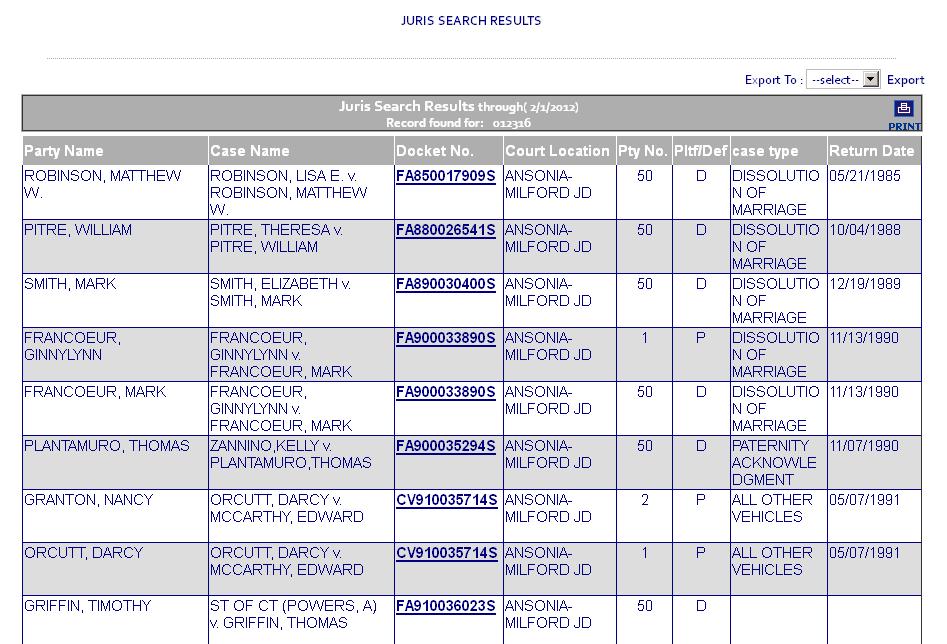 Search by Docket Number
The third tab on the new search menu allows you to view the appearance and docket details of any civil or family case in our database by entering the location, year and docket number. Court PC's database contains over 2,400,000 civil and family case records. The CT Judicial Branch site offers a similar search of just pending and recently-closed cases but the data covers only about 300,000 cases. There's no charge for a Court PC search by docket number.

Whenever you search by docket number or click on a CV or FA docket number from any report for a case detail, you'll now see a three-part record that displays the case summary, party and attorney information, and all docket information through our last update, as shown below. For this new function, I've added all the archived docket information collected over the years, and I estimate that docket information is now available for about 85% of all cases in our database, or more than 2,000,000 cases. If docket information isn't displayed, the case is an older case which pre-dates my efforts to collect that data.
Having the docket information can assist users in reconstructing a picture of what transpired in any case. It shows the history of motions filed and judicial decisions entered, and helps illustrate how extensively a case was litigated. A variety of pre-judgment remedies and post-judgment activities are also recorded in the dockets.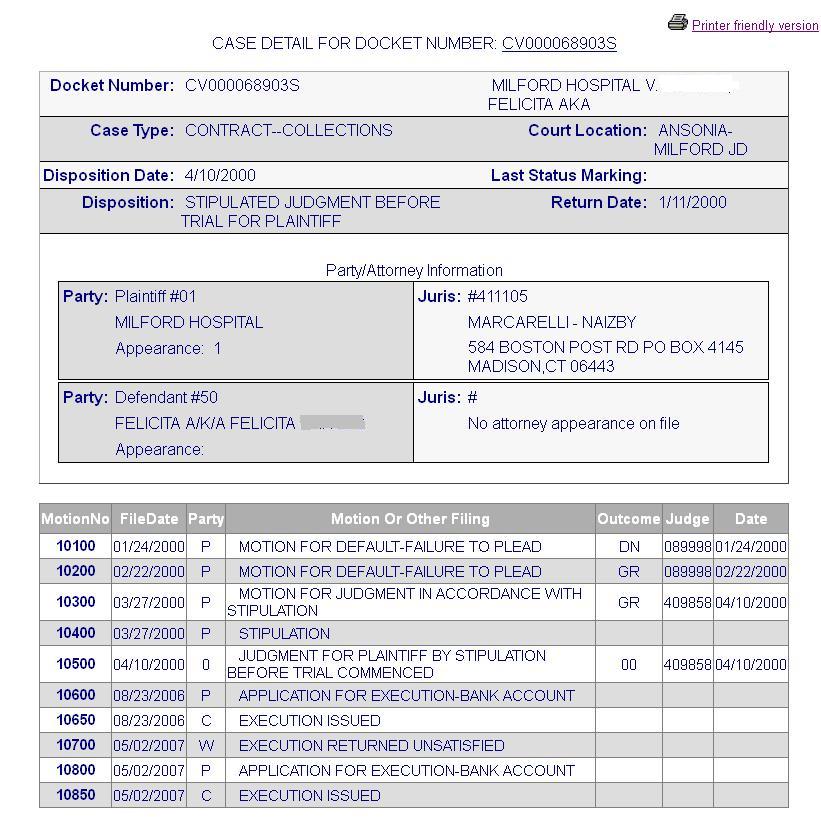 One caveat, though. This resource is designed to help you uncover more information about closed cases than you can get from any other source. With thousands of documents filed daily in the courts across Connecticut, Court PC is unable to offer complete and current information for pending cases. I do anticipate being able to update docket records on a quarterly basis in the future. But I strongly encourage users to retrieve complete docket information on pending or recently-closed cases directly from the CT Judicial Branch website.
This feature has been modified to store the results of your searches for 30 days. If you've lost results of a search you ran last week, or you need to print out another copy of the results for any reason, you can now go to this menu tab, enter a search date range, and retrieve the results without running the search again, with no worries about being billed a second time.
All save/display features of the original search are retained. You have unlimited access to case details for any of the cases listed on the search results. And you can export the results to the appropriate TXT or Excel format to save a file on your PC.
Search results will be saved for only 30 days, however. That's because the Court PC database is completely updated every 30 days. In effect, the search you ran 36 days ago was not run on the same data. Also, please bear in mind that CV and FA data is updated every two weeks. There's a small chance that with a search more than 15 days old, new records may have been added for your search subject in those case categories.
A full listing of all searches run on your account is available indefinitely. If for any reason you need a detailed record of your searches for the past six months or some other period, please contact Court PC and we will prepare one for you from the billing records in the database.
---
I've wanted to introduce these changes to the online database for a few years now. These enhanced research tools will greatly expand your ability to query and analyze the CT Superior Court data. With them, you're assured of getting more genuinely useful and in-depth information out of these valuable public records.
So, get familiar with these tools, ask questions, experiment. If you need any help at all, please contact me by one of the means below.
contact: John Lach, Court PC of Connecticut Inc.
toll-free fax: 866-768-3761
mail to: P O Box 951, Philmont, NY 12565