Business or entity names can begin with numbers
In the past, the system required party names to begin with a non-numerical character, so that the name 15 Bank Street LLC had to appear as "Fifteen Bank Street LLC" and 3459 Main Street Associates Inc. could be entered as "Thirty-four hundred fifty nine Main Street Associates Inc.," or "Three Four Five Nine Main Street Associates Inc." or even "Thirty-four 59 Main Street Associates Inc."
Take a look at the sample data shown in the snapshot below, particularly lines 190-191.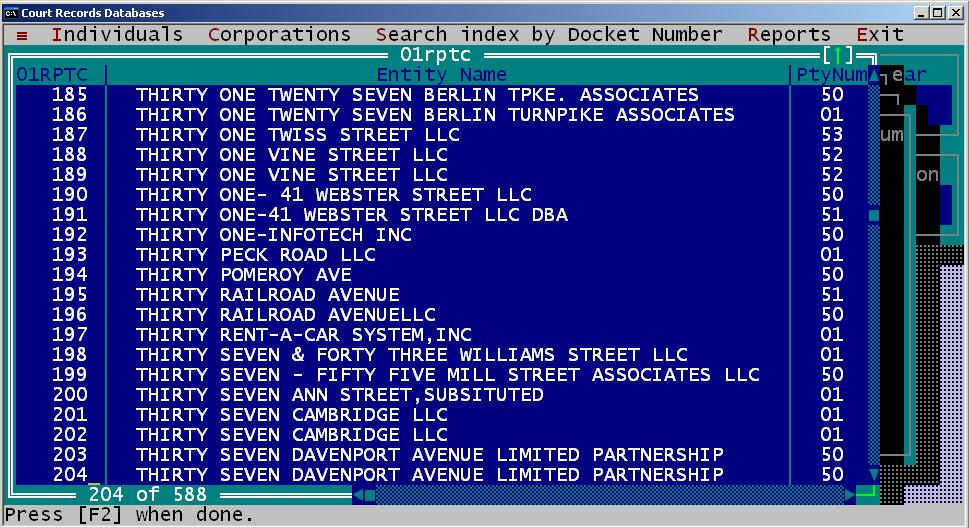 Since this rule no longer holds, names will now appear in either format. When you run a search on an entity name beginning with a numeral, you should run at least two searches, one alphabetically and one numerically. If the name is distinctive enough, such as "342 Union Avenue Development Corp.," you can avoid this problem entirely by entering a search for *UNION AV*DEVEL* to find entries in either form.
As in the past, Court PC won't bill for multiple searches of what reasonably appears to be the same name, so you don't need to worry about incurring multiple charges for trying to be thorough.
Longer party last name fields
Another minor internal change lengthened the party last name field, allowing for longer entries in each record. Now there's more space to enter information such as AKAs, or as "Executor of the Estate of...," etc. In the past, this type of qualifying information was more often than not abbreviated and put into a different field, along with middle initials, titles, etc. Now, given the extra space in the party's last name field, you can be sure the additional info will start showing up there more often.
The last name field is our primary search field. While it's always been important to use the asterisk wildcard on this field to catch as many likely matches as possible, now you MUST add the asterisk. To put it simply, if you don't want to miss matching records (and who does?), always use the asterisk wildcard (e.g., WILSON* rather than WILSON) when entering the last name you plan to search.
Court PC's search engine does not automatically add this extension for you. If the record's last name field reads "WILSON JR." you won't find it by doing a search for "WILSON" (only WILSON* will work). I can't emphasize this enough, as I see searches run without asterisks every day.
If you're still with me -- and it's the middle of summer, where else would you be? -- let me illustrate the problem with the new sample data below.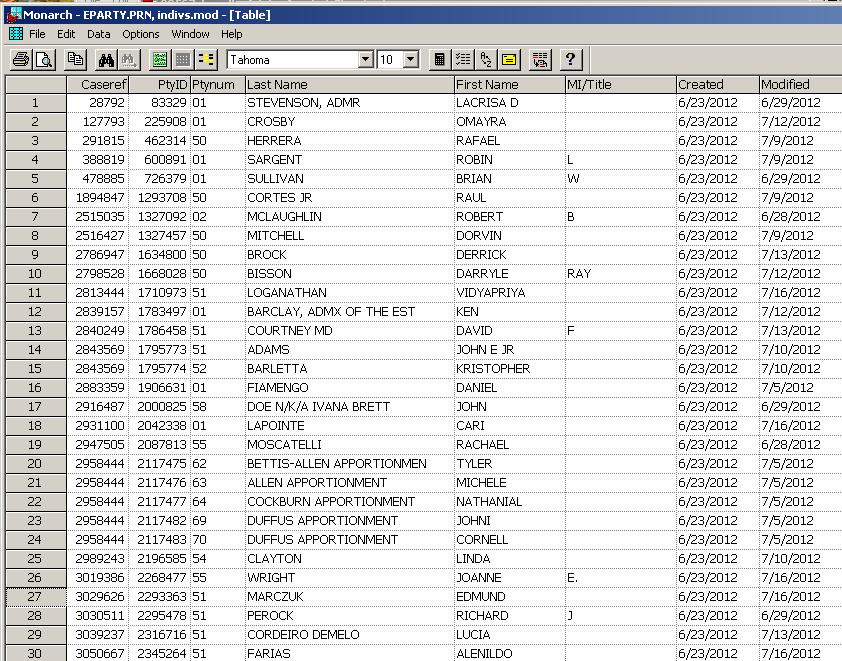 The last name field in line 1 lists the administrator ("ADMR") capacity after the surname. In line 12, the same function is described at more length ("...ADMX OF THE EST"). Line 13 identifies the defendant as an MD. Line 17 lists an NKA (now known as), and lines 20-24 all describe the party as an apportionment defendant. Line 29 displays what is probably a hyphenated last name. Put another way, "Allen Apportionment" ain't no last name I ever heard of.
So here's a 30 line sample with ten "extended surnames." And there are about 1.6 million lines with surnames in the party name file! Search the names as BARCLAY, COURTNEY or CORDEIRO, and you'd never find the records above. Only searches as BARCL* or COURTN*or CORD*RO* will return those records to your search results. And those just might be the records you're looking for.